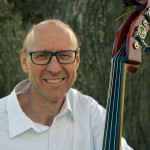 Bjørn Petersen is an associate professor at the Royal Academy of Music, Aarhus and a professional bass player. His research is focused on music perception, brain plasticity , music enjoyment and quality of life in individuals who have received a cochlear implant (CI). He has completed several studies with the purpose of examining the potential benefit of musical ear training as a way of enhancing music discrimination with a CI – involving adults, adolescents and children with CIs. His studies involve behavioral measurements as well as neuroimaging methods such as PET and EEG.
You find his PhD-thesis and his articles here.
Besides his CI research, Bjørn has specialized in Music Technology and implementation of multi-modal media in music teaching. A summary of one of his projects can be found here (in Danish).
Papers
Cortical Plasticity after Cochlear Implantation; B. Petersen, M. Wallentin, A. Gjedde, P. Vuust (Neural Plasticity, 2013)
Singing in the key of life- musical ear training with cochlear implants; B. Petersen, R.H. Hansen, M.V. Mortensen, P. Vuust (Psychomusicology: Music, Mind & Brain, 2012)
Music for Little Digital Ears –music training and testing in preschool children with cochlear implants; B. Petersen, R.H. Hansen, K. Beyer, M.V. Mortensen, P. Vuust (International Journal of Pediatric Otolaryngology, 2009)
Reestablishing Speech Understanding through Musical Ear Training after Cochlear Implantation – a Study of the Potential Cortical Plasticity in the Brain; B. Petersen, M.V. Mortensen, Gjedde, A., Vuust, P. (Annals of the New York Academy of Sciences, 2008)
Selected oral and poster presentations
November, 2013 5th annual meeting of the Society for the Neurobiology of Language, San Diego
September, 2013, Danish Society for Clinical Neurophysiology
August, 2013 International Symposium on Auditory and Audiological Research (ISAAR), Nyborg
May, 2013 XXVII Sandbjerg Symposium, Danish Society for Neuroscience
March, 2013 Swedish Technical Audiological Union – Conference, Falun, March 13-15, 2013
March, 2013 Annual meeting, dept. of Audiology, Bispebjerg Hospital, March 7th, 2013
October, 2012 Brain Prize Meeting, Hindsgavl Castle
September, 2012 DTAS (Danish Association of Technical Audiology), Annual Convention, Vejle
December, 2011 Julius Bomholt-seminar, the Research Committee of the Danish Ministry of 

Culture, Nationalmuseets Festsal

July, 2011 13th Symposium on Cochlear Implants in Children, Chicago

June, 2011 The Neurosciences and Music IV, Edinburg
May, 2011 10th European Symposium on Pediatric Cochlear Implantation, Athens
July, 2010 11th International Conference on Cochlear Implants and other Implantable Auditory 

Technologies, Stockholm

August, 2009 International Conference on Music Perception and Cognition 11, Seattle

September, 2009 Nordic Technician Conference, Ebeltof
August, 2009 3rd Intl. Conference on Auditory Cortex, Magdeburg
Grants
2012 Twelve months grant from the Danish Ministry of Culture for research on musical ear training program and an online test platform for cochlear implanted school children
Reviewing duties
2011-International Journal of Pediatric Otorhinolaryngology- ad-hoc reviewer
2014-FRONTIERS in 

Human Neuroscience
Committee membership
2013, appointed member of the Minister of Cultures research Vision Panel